IF YOU HAVE ANY QUESTIONS OR NEED HELP SIGNING UP FOR A CLASS, DONT HESITATE TO GIVE US A CALL AT (800)477-6193 SO WE CAN BETTER ASSIST YOU
FROM CLASS TO CAREER IN JUST SIX WEEKS
Becoming an EMT shouldn't be hard, and that's why we're here. We pride ourselves in the work we do for our students, helping them along the way as they develop the skills necessary to succeed in this wonderful career. From Firefighters to Paramedics, this is the career for you!
WE OFFER CPR CLASSES – CLICK HERE
Emergency Medical Technician – Basic
This course meets the requirements for San Bernardino County, Riverside County, Los Angeles County, Orange County, Inyo and Kern County EMS Systems!
This EMT program is designed to give students the skills and knowledge to function as a working Emergency Medical Technician at the basic level and to facilitate the passing of the National Registry Exam. Our EMT program is intended for those who want to gain employment as a firefighter, (EMT) emergency care technician at a hospital and Ambulance driver or attendant. It is also for those individuals who are planning on attempting to obtain a higher level of medical training such as RN, PA or MD as an enhancement for the competitive application process for those professions. Also, the EMT course is a great stepping stone into the police department as well.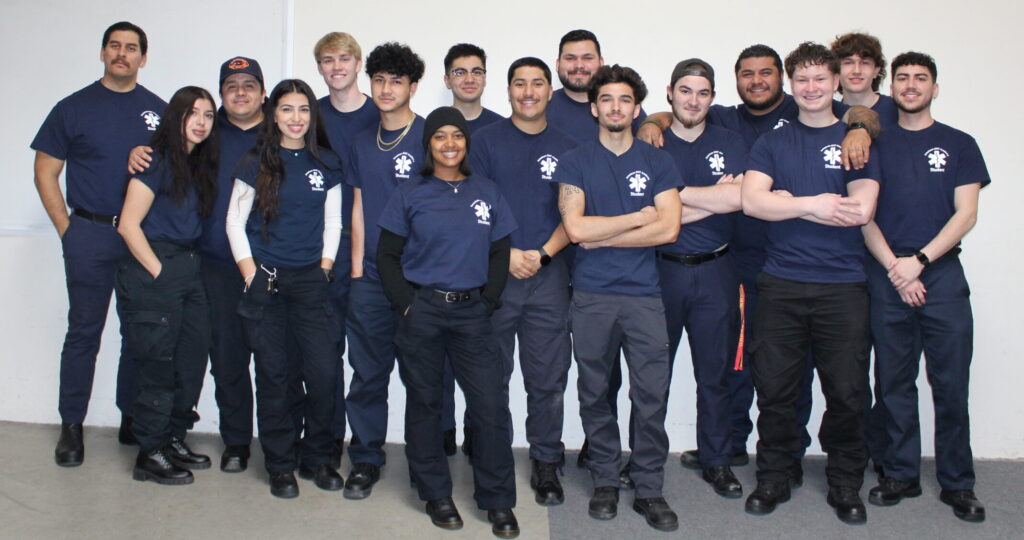 REQUIERMENTS:
Must be at least 17.5 years of age upon enrollment
You must have a copy of your Hepatitis B vaccination record and a Tuberculosis skin test within the past 6 months.
All paperwork is due no later than the end of the course so that you may take your ride along shifts.
 CPR is not included in the cost of the course. WE OFFER CPR COURSES – CLICK HERE
The required book is not included in the cost of the course. If you need the EMT basic book you can purchase one from us or click here to purchase online. You will want your book as soon as possible so you can start studying right away.
The Emergency Medical Technician Basic course is designed to prepare you for working as an EMT on an ambulance or in a hospital. This course is 6 weeks long and will prepare you for taking the National Registry test. The skills you will learn include CPR, Patient Assessment, Splinting, bandaging and much more.
Our course is unique in that we are approved through the county of San Bernardino (ICEMA) and Riverside County (REMS) and we will cover all the topics you need for LA County and all other counties in Southern California. So no matter where you want to start your career you will be well prepared.
To sign up for this class or get more information please contact us at 1-800-477-6193.